Tylar Merrill works and teaches out of her studio in Eugene, Oregon. She teaches both beginner and advanced/master classes using a wide variety of felting techniques and applications. There are many techniques and opinions on how to create hand-made felt. Tylar feels that all methods have value and are worth exploring as are the many teachers instructing a wide variety of methods.  Her teaching focuses on a collection of methods she has learned from other experienced teachers as well as techniques, shortcuts, and other nuggets of wisdom learned from fellow students. Tylar's approach to felt making is intuitive, being open to the unexpected and to always have fun felting!
To register, please select your dates and workshop choices. To reserve your class and date, please contact me for further details. tylarmerrill@gmail.com or call 541-521-8701
Thimbleberry Gallery is open daily by appointment.  2630 Agate St., Eugene, OR 97403
Below is a list of dates that I'm available for teaching, you choose what classes you'd like to take.
Private classes are offered for $225./day 9:30am-4:30pm, plus materials and supplies.
If you don't see a date that works for you, please write or call and I'll try to accommodate your request.
Red dates indicate workshops are full.
2019
Eugene Oregon: Thimbleberry Felt Designs Studio 

 

July 7, 12, 13,

18, 19, 20

August 1, 2, 3, 4, 5, 6, 7, 8,

10, 11 or 12

September class times coming soon.
Space still available in many classes!!!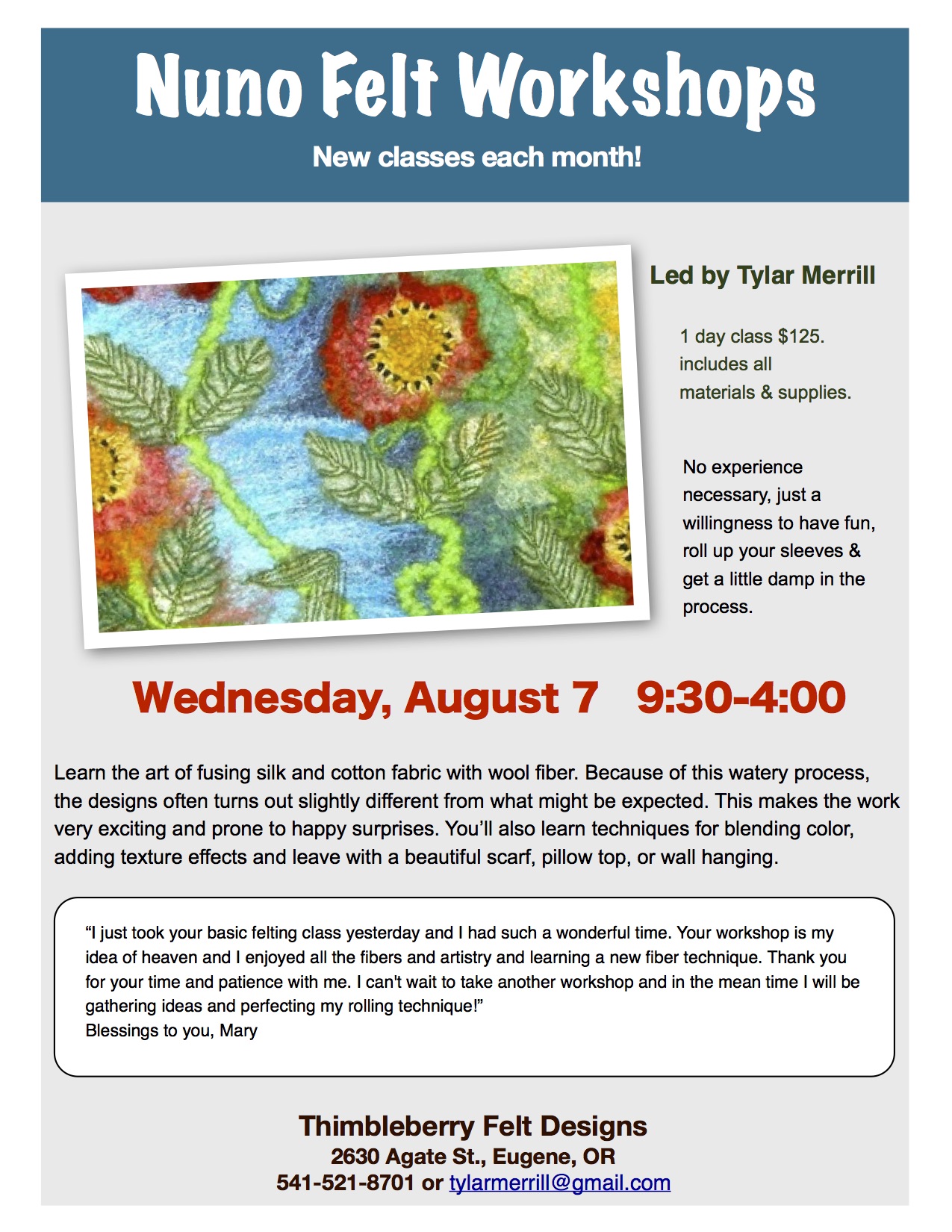 Below are Workshop OFFERINGs that can be Scheduled
Basic Felting Workshops:

 
1 Day: Nuno the Basics: Learn the art of fusing silk and cotton fabric with wool fiber. Because of this watery process, the designs often turns out slightly different from what might be expected. This makes the work very exciting and prone to happy surprises. You'll also learn techniques for blending color, adding texture effects and leave with a beautiful scarf, pillow top, or wall hanging. $125. includes all materials & supplies.
1 Day: Seamless woolly felt slipppers: We will use wool fiber, a plastic resist, soap, water, and a little elbow grease to create a pair of cozy custom fit slippers with organic fleece insoles.  Have fun and get a foot massage for no extra cost!  No experience necessary, just a willingness to have fun, roll up your sleeves & get a little damp in the process. $135. includes all materials & supplies.
1 Day: Vessels & Bowls: Take your felt making to another level & go 3D! Students will experiment & explore the endless possibilities of making abstract shapes creating seamless 3D forms by using the process of wet felting & using a resist. The form can then be embellished by creative stitchery or needle felt embellishments. $100. includes all  materials & supplies.
Beyond the Basics:
1 Day~ Kofia or Pop-up Hat Workshop:  You'll learn felting basics, as well as how to embellish your creation to make it even more special. Create our own style, choose and blend colors, add stitching, and learn how to use resists & pre-felts to make additional unique embellishments. 9:30 am – 4:00 pm. $155.00 includes materials & supplies.
1 Day~ Surface Design: Learn how to add color by layering specialty wools with silk fibers, ribbons, & other novelty items such as bulky yarns, beads, marbles, stones, twigs & resists. You will also learn to create & incorporate 3-D forms to your felt creations by adding stitches, bumps, cutting & carving techniques to add depth & interest to your felt art. 9:30 am – 4:00 pm. $145.00 includes materials & supplies.
2 Day~ Wall Art Workshop: Make a hand-felted piece of art, inspired by traditional art or ancient images. Explore felt-specific techniques for surface design and texturing, including color blending, pattern inlay, shading, & the effects of using simple stitch. Incorporate a variety of fibers, pre-felts, recycled fabrics & novelty yarns. 9:30 am- 4:00 pm $225.00 includes materials & supplies.
2 Day~ Nuno Shawls or Stole Workshop: Wrap yourself in a beautiful, warm, hand-felted shawl that you create using nuno felt techniques. Learn the process of blending silk, cotton, wool, & other beautiful fibers such as silk cocoons, bamboo, & various novelty yarns to create your own lovely garment. You will be given many tips & techniques needed to help make your own unique piece of wearable art. 9:30 am – 4:00 pm $275.00 includes materials & supplies.
2 Day~ Nuno Felt Tote or Messenger Bag Workshop: We will go through a couple of exercises to become familiar with what fabrics work best & play nicely with different types of wool. Learn how to add pockets, zippers, magnetic closures, & leather to your own designs. You'll also learn techniques for blending color, adding textural effects, & leave the class ready to try your own projects at home. Basic sewing machine skills would be helpful in this class but not absolutely necessary. 9:30 am – 4:00 pm  $250.00 includes materials & supplies.
2 Day~ Cathedral Window Silk Scarf Workshop:
Create your own elegant stained glass design using silk fabric, pre-felts and merino roving.  The first day you'll create the pattern design and complete the felting process. The second day will be full of mixing colors and creating a palette for hand painting your own unique creation. 9:30-4:00 pm $245.00 includes materials & supplies.
3 Day~ Nuno Vest Workshop: This class will take students through the process of designing & creating their own wearable art. Students should have knowledge of both basic wet & nuno felt techniques. A background in clothing construction is also helpful. The class will explore & learn to manipulate materials both feltable and non-feltable, adding fabric & wool inlays & resists to your garment design. Discover the many uses of transparency, texture, & layering to enhance your designs. Each student will complete a personalized hand felt garment of their own unique design. 9:00 am – 4:00 pm $460.00 includes materials & supplies.
4 Day~  Nuno Jacket or Coat Workshop: This class is designed for advanced students who are experienced in the techiques of nuno felting, plus a background in clothing construction is also recommeneded. We will cover pattern sizing & design, front or side pockets, bound button holes, & gasset inlays, & custom fitting techniques. Each student will complete a personalized hand felt garment of their own design. 10:00 am – 4:00 pm $575.00 includes all materials & supplies. Only silk or cotton base fabric supplied by student.